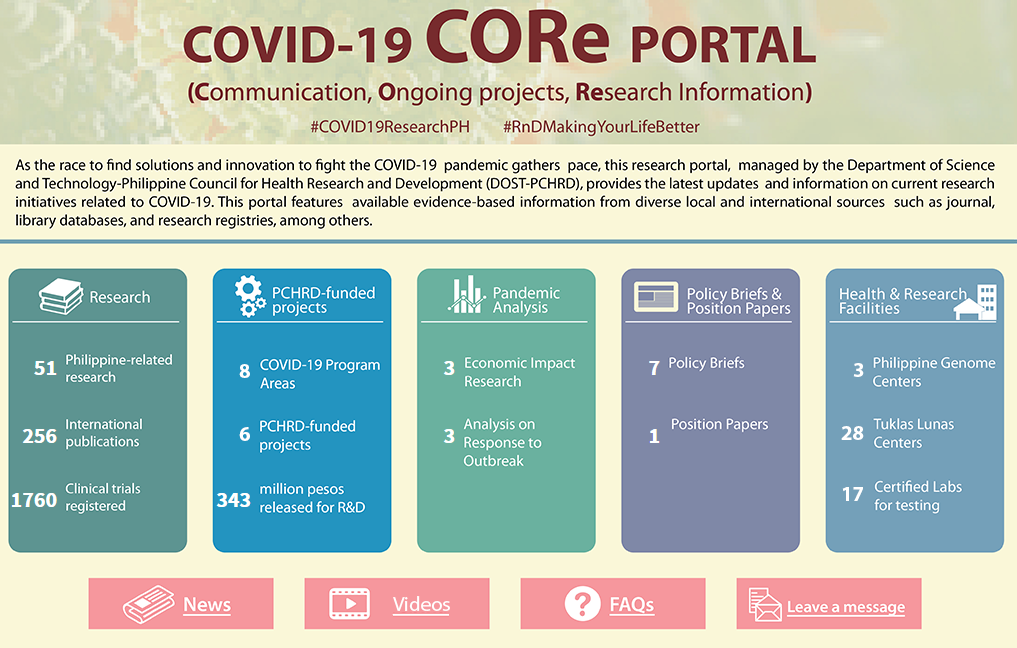 The public can now access latest updates on coronavirus research, news, library resources, and other related information in one site through the COVID-19 CORe (Communication, Ongoing projects, Research) Portal developed and managed by the Department of Science and Technology-Philippine Council for Health Research and Development (DOST-PCHRD).
Aiming to strengthen the country's pandemic information dissemination efforts, DOST-PCHRD compiles all available evidence-based information on COVID-19, including local and international research, local innovations, pandemic analysis and policy papers, webinars, and local healthcare facilities.
The portal also provides access to COVID-19 trackers and useful links to official advisories and recognized library resources of various health organizations and the academe such as the World Health Organization, John Hopkins Libraries, and the University of the Philippines (UP). 
"We need to boost the generation of solutions against the coronavirus pandemic, and building an open-access portal to related resources will aid our researchers and the public with legitimate and evidence-based information on COVID-19, " said Dr. Jaime C. Montoya, Executive Director of DOST PCHRD.
DOST-PCHRD expects to add resources to the portal as more information becomes available to the public. The portal is free and can be easily accessed at  http://covid19.healthresearch.ph/. Meanwhile, the Council is also managing HERDIN Plus (www.herdin.ph), an online portal that provides easy management and access to health research and related information.
Source: http://www.pchrd.dost.gov.ph/index.php/news/6543-dost-pchrd-launches-covid-19-research-portal