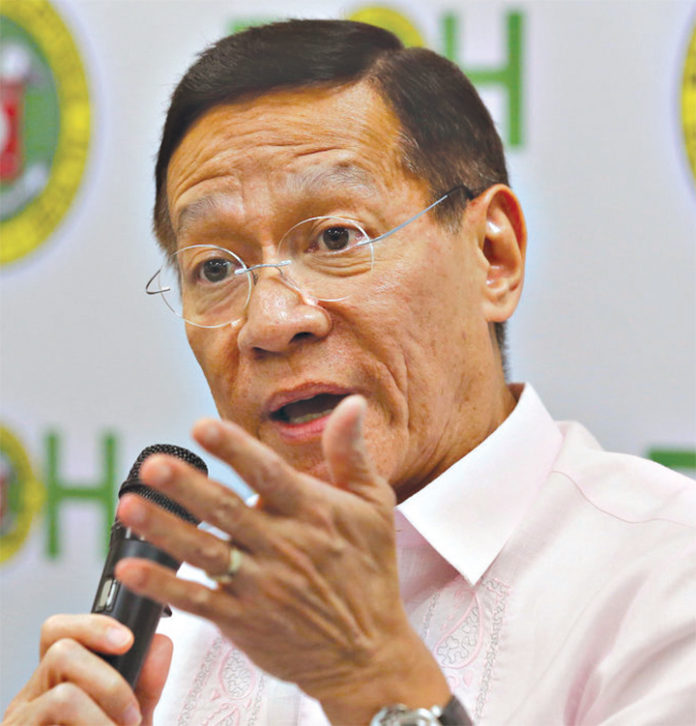 Photo: Claudeth Mocon-Ciriaco (https://businessmirror.com.ph/2019/09/03/no-delay-in-uhc-rollout/)
Press Release/September 2, 2019
Secretary of Health Francisco T. Duque III today reiterated that there is no delay in the implementation of the Universal Health Care (UHC) Act.
"The implementation of Universal Health Care is right on schedule. There is no delay to speak of," said Duque.
At the budget presentation of the Department of Health (DOH) at the House of Representatives last week, lawmakers expressed concerns about the inclusion of only 33 provinces and cities under the department's UHC Integration Sites (UIS) Program for the development of local health service provider networks.
However, Duque explained that the development of these provider networks is only one of many prescribed reforms under the government's signature UHC Program.
"The UIS Program is not the be-all and end-all of the UHC Program. Though it is a critical step to address fragmentation in the health system, the UIS Program is only one of the many reforms. Let us not confuse or equate UIS with UHC. Non-selection of an area in the UIS for 2020 does not mean that UHC will not be implemented at all in a certain area next year," Duque said.
One key reform under the UHC Program which Duque expects to be completed by next year is the mandatory enrollment of all Filipinos in the National Health Insurance Program (NHIP) of the Philippine Health Insurance Corporation (PHIC).
"Right now, we are at 98 percent enrollment. We expect to achieve 100 percent enrollment by the end of the first year of UHC implementation," Duque said.
Once 100 percent enrollment is achieved, the individual-based medical services which PhilHealth reimburses or pays for will become available to all Filipinos at all Philhealth-accredited facilities nationwide.
"Kapag tayong lahat ay naging miyembro na ng Philhealth sa bisa ng UHC, lahat po tayo ay makikinabang dito," Duque said.
Duque also defended the progressive rollout approach to the UIS Program.
"The rollout of the UIS Program is nationwide in scope but progressive in approach. This is the most reasonable and cost-effective approach to ensure that local healthcare provider networks will offer quality services efficiently and transparently," Duque said.
Duque also pointed out that every geographical area of the country is well represented under the 2020 UIS Program: 13 integration sites are located in Luzon, 10 in Mindanao, 8 in Visayas, and 2 in the National Capital Region.
"The 2020 UIS site map represents a fair and equitable distribution of DOH resources for this program. We Have to remember that the transitory provisions of the UHC Act are clear when they provide for a six-year transition period for the integration of local provider networks into provincial and city health systems. We cannot demand the complete integration of over 100 provincial and city health systems overnight when the law clearly provides for a realistic six-year period to accomplish this," Duque said.
Source: https://www.doh.gov.ph/press-release/duque-no-delay-in-UHC-rollout