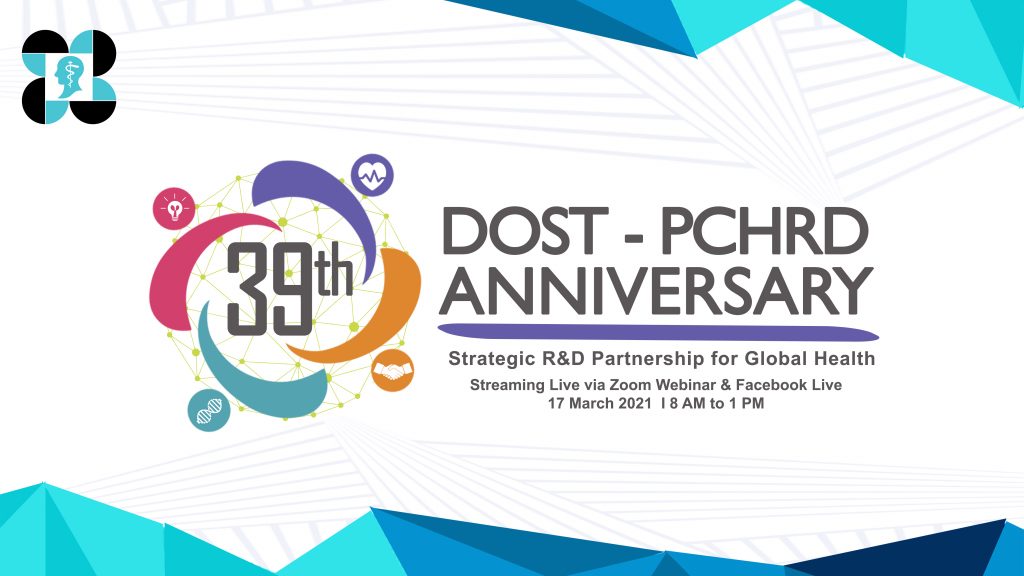 In celebration of its 39th anniversary, the Department of Science and Technology – Philippine Council for Health Research and Development (DOST-PCHRD) will hold a webinar on partnerships for health research and development on March 17, 2021 via Zoom and Facebook Livestreaming.
With the theme, "Strategic R&D Partnership for Global Health," the event will tackle the challenges and opportunities of building R&D partnerships in achieving global health outcomes. The webinar will also feature some of the recent and long-standing collaborations formed by the Council that were translated into technologies, programs, and policies — making health products and services accessible to every Filipinos especially during a global pandemic.
Atty. Geraldine Acuna-Sunshine, Board Overseer at the Harvard University, will deliver the Keynote Address. Dr. Acuna-Sunshine is also the president of the Sunshine Care Foundation for Neurological Care and Research, an international non-profit organization dedicated to finding innovative ways of delivering free clinical and neurological care to indigent patients in rural areas of Asia. Her work has facilitated international collaborations in the fields of medicine, public health, and science to find effective therapies for neurodegenerative diseases, resulting in cross-collaborations among top scientists at Harvard, Yale, Massachusetts Institute of Technology (MIT), and other preeminent institutions worldwide.
Highlight of the program is the panel discussion on the importance of partnerships as drivers of global health with resource speakers including DOST Undersecretary for Research and Development Dr. Rowena Christina Guevara, Italian Liver Foundation Scientific Director Dr. Claudio Tiribelli, British Embassy Manila Ambassador Daniel Pruce, UP Manila College of Public Health Dean Dr. Vicente Belizario Jr., and League of Cities of the Philippines National President Mayor Evelio Leonardia.
The afternoon parallel sessions will feature the 3-Minute Pitch to Policymakers Competition and the DOST-PCHRD Scholars' Society Annual Convention.
To know more about the event, visit www.pchrd.dost.gov.ph. and follow us on Facebook (/dostpchrd) and Twitter (@DOST_PCHRD).