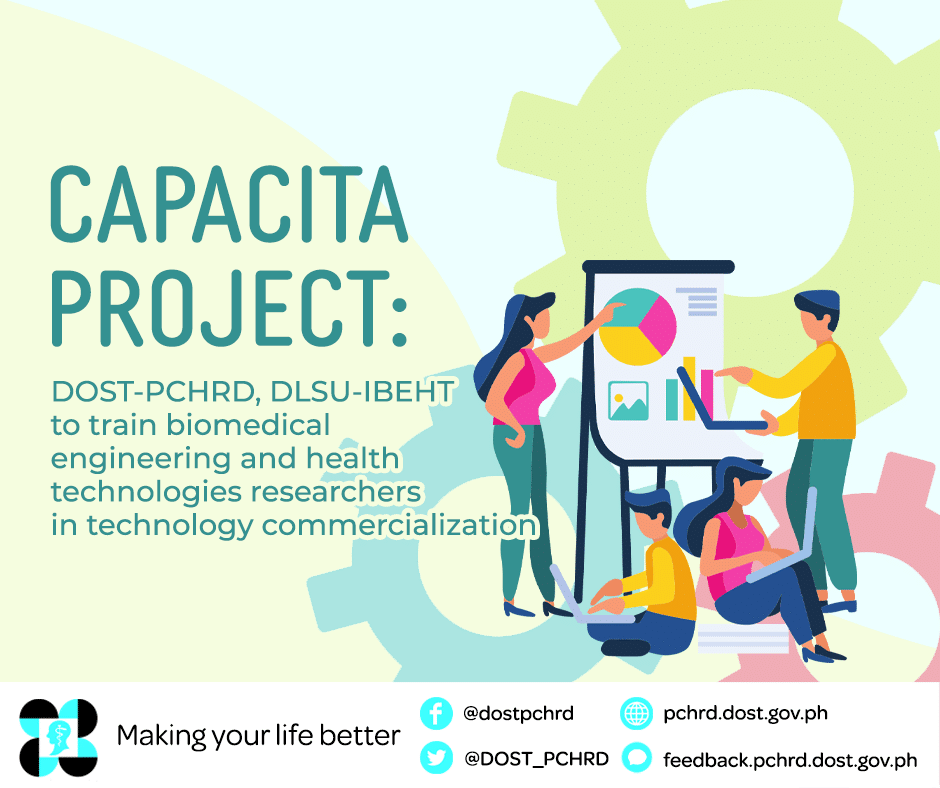 Even today, the "valley of death" remains to be a pressing challenge in research, which pertains to the difficulty of bringing research outputs to the market. Of which, the field of biomedical engineering and health technologies is no exception.
To help researchers overcome this daunting challenge, the DOST-PCHRD in partnership with the De La Salle University's Institute of Biomedical Engineering and Health Technologies (DLSU-IBEHT) launched the CAPACITA project (Capacity Building for Researchers, Inventors and Technology Transfer Personnel Commercializing Biomedical Devices and Health Technologies), which aims to equip researchers, inventors and technology transfer officers with the knowledge and skills necessary for commercialization.
Focusing on specific issues concerning the industry of biomedical engineering and health technologies, the CAPACITÀ Project aims to delve into topics relating to clinical trials, government regulatory requirements, and ethical questions concerning commercialization, among others.
The project will follow a two-year plan:
Year 1: In preparation for the implementation, the team will conduct a needs-assessment survey and study for the development of resource materials, course of trainings and workshops. The conduct of the study will ensure that the capacity building activities will accommodate the needs of the field in terms of commercialization.
Year 2: Implementation of the trainings and workshops in partnership with different institutions.
"There are very few capacity building programs in the field which aims to fill this gap [in commercialization]. This project is unique because it focuses on biomedical engineering and health technologies," CAPACITA Project Leader and Director of the DLSU Intellectual Property Office (DIPO) Atty. Christopher Cruz says. "Our goal is to positively impact the society, and we will take pride in the fact that we did it in spite of the challenges that the COVID-19 pandemic posed," he added.
The CAPACITA project is one of the newly-approved projects launched by the IBEHT during its virtual kick-off event last March 26, 2021. The project team already started the implementation of Year 1 of the project last September 2020.
Source: https://www.pchrd.dost.gov.ph/news/6660-dost-pchrd-dlsu-ibeht-to-capacitate-biomedical-engineering-and-health-technologies-researchers-on-commercialization