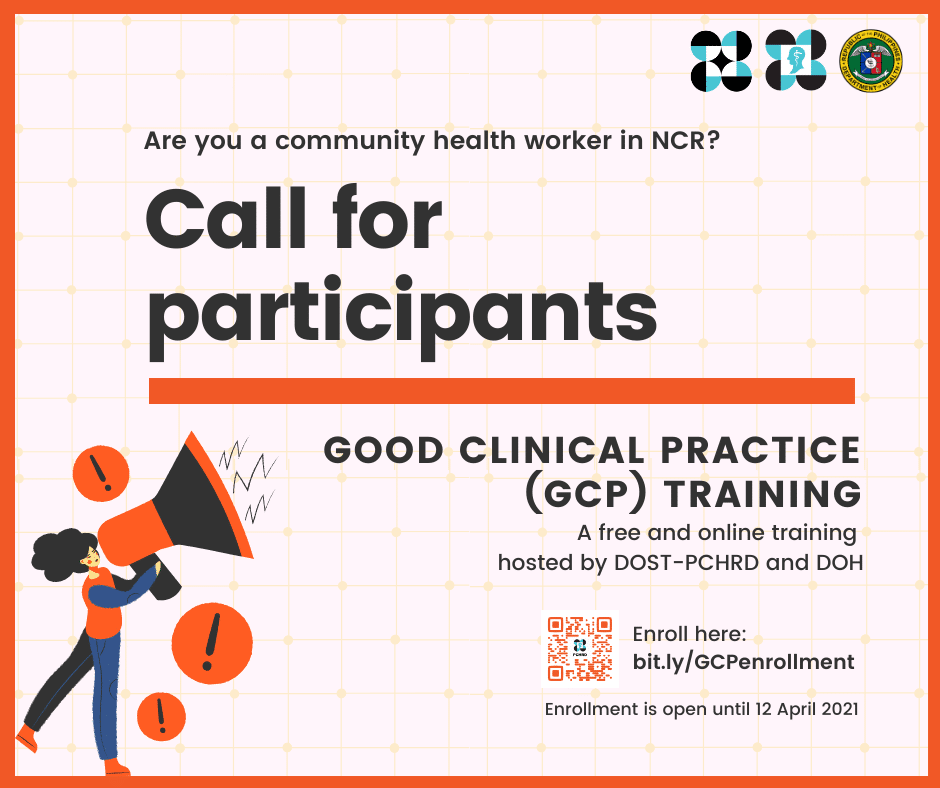 The Department of Science and Technology – Philippine Council for Health Research and Development (DOST-PCHRD) together with the Department of Health (DOH) organized an online Good Clinical Practice (GCP) training program in preparation for the conduct of vaccine clinical trials. The GCP training aims to capacitate community healthcare workers (CHWs) on upholding and safeguarding the rights of participants in vaccine clinical trials, and to provide a platform where the CHWs may raise their questions and concerns on the upcoming trial.
Covering different areas that will help ensure the trial's adherence to scientific and ethical standards, the training will feature modules from notable experts in the field:
1. DOST-PCHRD Executive Director Dr. Jaime C. Montoya – Clinical Trials Administrative Oversight
2. Forum for Ethical Review Committees in Asia and the Western Pacific – Asian Regional Coordinator Dr. Cristina E. Torres – The Dos and Don'ts of Clinical Trials
3. University of the Philippines-Manila Research Ethics Board Coordinator Ms. Edlyn Jimenez – Informed Consent at Recruitment ng Participants
4. Philippine Clinical Research Professionals President Mr. Al Ryan Baniqued – Safety Reporting at Documentation ng Clinical Trials 
The training will follow a "flipped classroom" format, where the participants may access the modules at their own time and pace. Certificates will be provided for those who will complete the program.
"Capacitating our community healthcare workers is very critical to ensure the success of vaccine clinical trials, especially since they will serve as the primary touchpoints of the participants,"  DOST-PCHRD Executive Director Jaime C. Montoya says. "It is our hope that through this program, we will be able to strengthen our efforts by making sure that we will always adhere to the highest scientific and ethical standards," he adds.
All CHWs are welcome to join the online training, including: City Health Workers, Municipal Health Workers, Barangay health workers, licensed doctors, nurses, midwives and pharmacists serving in public health centers and hospitals, and other licensed health professionals working in private clinics or hospitals.
Interested participants must take note of the following requirements for the online training:
1. Internet-enabled gadgets such as a laptop, mobile phone or tablet
2. Email account
3. Facebook account (optional)
Deadline of the registration for the online training is on April 12, 2021. Enrollment may be done through this link: bit.ly/GCPenrollment.
Source: https://www.pchrd.dost.gov.ph/news/6664-dost-pchrd-doh-organize-good-clinical-practice-gcp-training-program-in-preparation-for-vaccine-clinical-trials