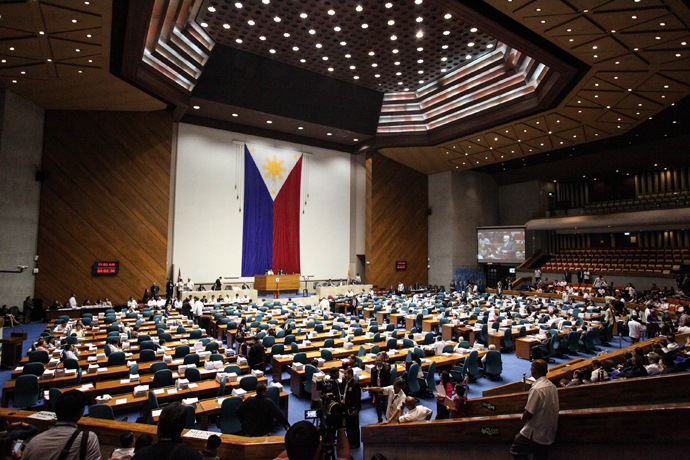 (MANILA BULLETIN)
The House Committee on Health has passed a substitute bill seeking to establish the National eHealth Systems and Services to deliver health services through cost-effective and secure information and communications technology (ICT).
The House panel, chaired by Quezon Rep. Angelina Tan approved the proposed "National eHealth System and Services Act," a consolidation of six measures, which provides for an organized and structured application of electronic health or "eHealth" integrated in the regular workflow of healthcare facilities.
The measure substituted House Bill 3310 authored by former President and now House Speaker Gloria Macapagal-Arroyo, HB 4630 by Reps. John Marvin Nieto (3rd District, Manila) and Edward Vera Perez Maceda (4th District, Manila), HB 5810 by Rep. Scott Davies Lanete (3rd District, Masbate), HB 7122 by Rep. Salvador Belaro Jr. (Party-list, 1-ANG EDUKASYON), HB 7153 by Rep. Victor Yap (2nd District, Tarlac), and HB 7426 by Rep. Alfred Vargas (5th District, Quezon City).
"The bill aims to facilitate the exchange and access to secured personal health information, ensure harmonization or integration, alignment, and interoperability among various eHealth initiatives, and facilitate inter-agency and inter-sectoral coordination at various levels of governance in both public and private sectors," the authors of the bill said.
Under the bill, the Department of Health (DOH) shall serve as the key implementing arm of the proposed Act.
The measure calls for the creation of an inter-agency and multi-sectoral National eHealth Steering Committee to serve as an executive body of the Philippine eHealth System and Services (PNeHSS).
During a recent hearing, the Tan panel included a provision for public-private partnership of eHealth Services.
The DOH is tasked to promulgate the rules regarding the participation of the private sector in the provision of eHealth services and solutions, including public-private partnerships and other suitable arrangements.
Before approving the bill, the panel also added a provision on research and development.
The bill provides that consistent with Republic 10532 or the "Philippine National Health Research System Act of 2013", the Department of Science and Technology- Philippine Council for Health Research and Development (DOST-PCHRD), in coordination with the DOH, Department of Information and Communications Technology (DICT), PhilHealth, specialty societies, and non-government institutions, shall ensure the development of new eHealth solutions, services, and innovations.
"This shall be accomplished through the formulation of expanded eHealth research priority areas under the National Unified Health Research Agenda (NUHRA) as well as the establishment of knowledge hub and research centers for eHealth that study, among others, capacity building, health technology assessment, knowledge management, standards development, and research utilization," the Tan panel noted.
Under the bill, the unauthorized processing of personal information shall be penalized by imprisonment ranging from one to three years and a fine of P500,000 to P2 million. The unauthorized processing of sensitive personal information is punishable by imprisonment of three to six years and a fine of P500,000 to P4 million.
Among the prohibited acts under the bill include accessing personal information and personal sensitive information due to negligence; improper disposal of personal information and sensitive personal information; procession of personal information and personal sensitive information due to negligence for unauthorized purposes; unauthorized access or intentional breach; concealment of security breaches involving sensitive personal information; malicious disclosure; and unauthorized disclosure.
Any person who commits a combination or series of these acts shall be subject to imprisonment ranging from three years to six years and a fine of P1 million to P5 million, according to the bill.
During the hearing, DOH Assistant Secretary Enrique Tayag expressed the DOH's support to the substitute bill.
"The Department of Health welcomes the new version of this Act because the future of health is being designed with eHealth, the use of information communications technology in health," he said.
He took note of the private sector participation in the proposed Act, even as he proposed that the bill should clearly provide that private entities are free to use ICT in their delivery of health services.
"We want to inform this committee that the Department of Health has been monitoring technology pertaining to eHealth that's being introduced and being adopted in the health sector. We would want to manifest that regulations of such should be embodied in this act so there will be no misunderstanding that any entity can introduce technology without going through the government regulations," Tayag said.
Source: https://news.mb.com.ph/2019/01/24/house-panel-approves-proposed-national-ehealth-system-and-services-act/