Lagundi and VCO studies show encouraging results against COVID
The Department of Science and Technology-Philippine Council for Health Research and Development (DOST-PCHRD) announced the results of its two studies aimed to see the efficacy of Lagundi and Virgin Coconut Oil (VCO) against COVID-19.
This was revealed through a webinar conducted in celebration of the 2021 National Science and Technology Week on November 25, 2021.
In his message, DOST Secretary Fortunato T. de la Peña conveyed to the participants his hope that through science and technology, more doors will be opened to address the public health concerns in the country. "S&T is key in generating health solutions for all," said de la Pena.
R&D on Lagundi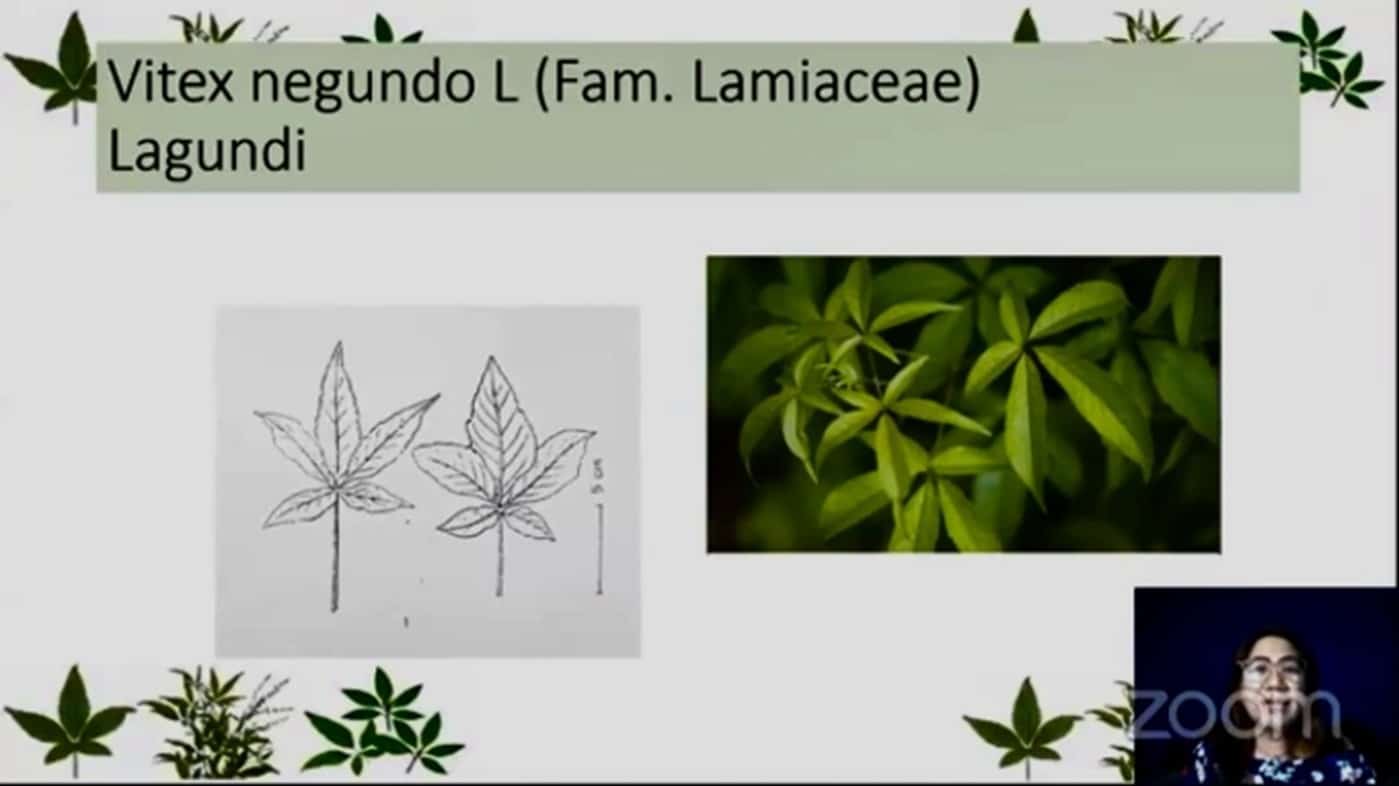 Screen-grabbed: Repurposing Natural Resources for COVID-19 (webinar)
In her presentation, Dr. Cecilia C. Maramba-Lazarte, Director of the Institute of Herbal Medicine, National Institute of Health – University of the Philippines Manila, discussed the clinical trial on the effectiveness of Lagundi tablets and syrup to mild COVID-19 cases with no comorbidities. The two-stage, randomized double-blind, placebo-controlled study was conducted from July 2020 – August 2021.
One of the reasons why Lagundi was considered as treatment against COVID-19 is its multi-targeted characteristics– its substance can relieve patients with respiratory tract symptoms.
Moreover, Dr. Maramba-Lazarte revealed that the first study showed that the standard dose of Lagundi syrup (600mg administered three times a day for 10 days) and high dose of Lagundi tablet (three times a day for 10 days) are both safe and effective in terms of clinical recovery time, modified early warning score, and global evaluation scale.
Meanwhile, the second phase of the study saw Lagundi's efficacy in decreasing mild COVID-19 symptoms, particularly the loss of smell or anosmia. It also provides relief from any discomfort brought about by other symptoms.
The project was jointly funded by the DOST through the P4,956,786.3 DOST-Grants-In-Aid (DOST-GIA) Addressing and Responding to Covid-19 through Health Research or ARCHER project and the PCHRD-GIA amounting to P489,571.20.
R&D on VCO
On the second part of the webinar, DOST-PCHRD discussed the findings of its VCO study where it was found out that VCO can be used as an adjunctive therapy for hospitalized COVID-19 patients and is beneficial to suspect and probable COVID-19 cases.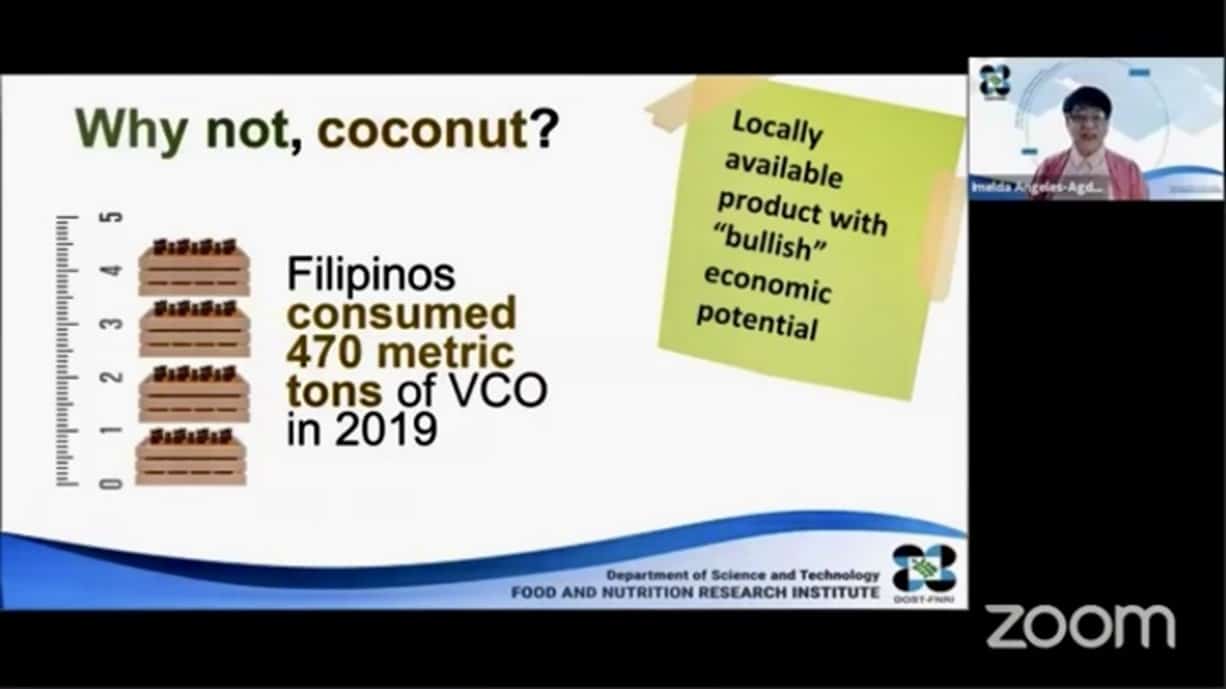 DOST-FNRI director Dr. Imelda Angeles-Agdeppa presented the results of the study on VCO as an adjunct treatment for COVID cases.
The DOST Food and Nutrition Research Institute (DOST-FNRI) Director and Scientist II Dr. Imelda Angeles-Agdeppa particularly pointed out the valuable effects of VCO among suspect and probable cases of COVID-19.
She called VCO as "liquid gold" with medicinal and therapeutic properties. Previous studies also confirmed that its components have antiviral properties.
Meanwhile, UP Manila College of Public Health Associate Professor, Dr. Fresthel Monica M. Climacosa said that VCO, as an adjunctive therapy, can be used together with the primary treatment or drug.
In summary, the study pointed out that with a pre-determined dose of VCO mixed on meals for probable and suspect COVID-19 individuals, it can "alter the lipid levels by increasing both the bad and good cholesterol, respectively, promote relief from acute inflammation, and can promote recovery by resolving the signs and symptoms."
Dr. Climacosa emphasized that although the study found that VCO could be used as an adjunct supplement to suspect or probable cases of COVID-19, but it is suggested that more studies and tests are needed to gather confirmatory evidence on its efficacy against COVID-19.
The VCO study is implemented by DOST-FNRI with partner agencies, the Philippine Coconut Authority and DOST-CALABARZON and funded by the DOST-PCHRD.
The 2021 National Science and Technology Week runs from November 22-28. Checkout the remaining activities at www.nstw.dost.gov.ph and its official Facebook page at NSTWDOST.(By Rachel R. Perez, DOST-STII)
Source:https://www.dost.gov.ph/knowledge-resources/news/72-2021-news/2573-lagundi-and-vco-studies-show-encouraging-results-against-covid.html