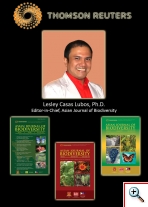 The Thomson Reuters – Institute of Scientific Information (ISI) has included in its 2012 Master List of Journals the Asian Journal of Biodiversity published by Liceo de Cagayan University, Cagayan de Oro City. Thomson Reuters is the worlds' No. 1 Scientific Research Database. Inclusion in Thomson Reuters results to higher author citation indices, journal impact factor, and preference of articles in references, and global prestige.

The Asian Journal of Biodiversity is also indexed by (1) The Gale Group (USA); (2) Public Knowledge Project, a consortium of Simon Fraser University Library, the School of Education of Stanford University, and the British Columbia University, Canada: (3) E-International Scientific Research Journal Consortium; (4) Philippine E-Journals; (5) Google Scholar; and, (6) Philippine Journals Online. The journal is also being applied for inclusion in SciVerse by Scopus Elsevier, another prestigious research database in Europe.
At the helm of the journal's management is Dr. Lesley C. Lubos, Editor in-chief and Associate Editors from different continents: Victor B. Amoroso, Ph.D., Central Mindanao University, Philippines; Arvin B. Diesmos, Ph.D., National Museum of the Philippines; Benito C. Tan, Ph.D., National University of Singapore; Idris Musa Adam Omer, Ph.D., Agricultural Research Station, Sudan; Gabriela Chavarria-Soley, Ph.D., Universidad Latina de Costa Rica, Costa Rica; Hany Youssef Hassan, Ph.D., Menoufia University, Sadat City, Egypt; Bhaskar C. Behera, Ph.D., Autonomous Institute of Department of Science and Technology, India. The other officers are the Chief Executive Officer, Mariano M. Lerin, Ph.D., CPA, Liceo de Cagayan University, Philippines, Copy Editor, Teresita T. Tumapon, Ph.D., and Managing Editor, Genaro V. Japos, Ph.D.
The Asian Journal of Biodiversity is the only discipline-specific journal for Biodiversity in the Philippines.