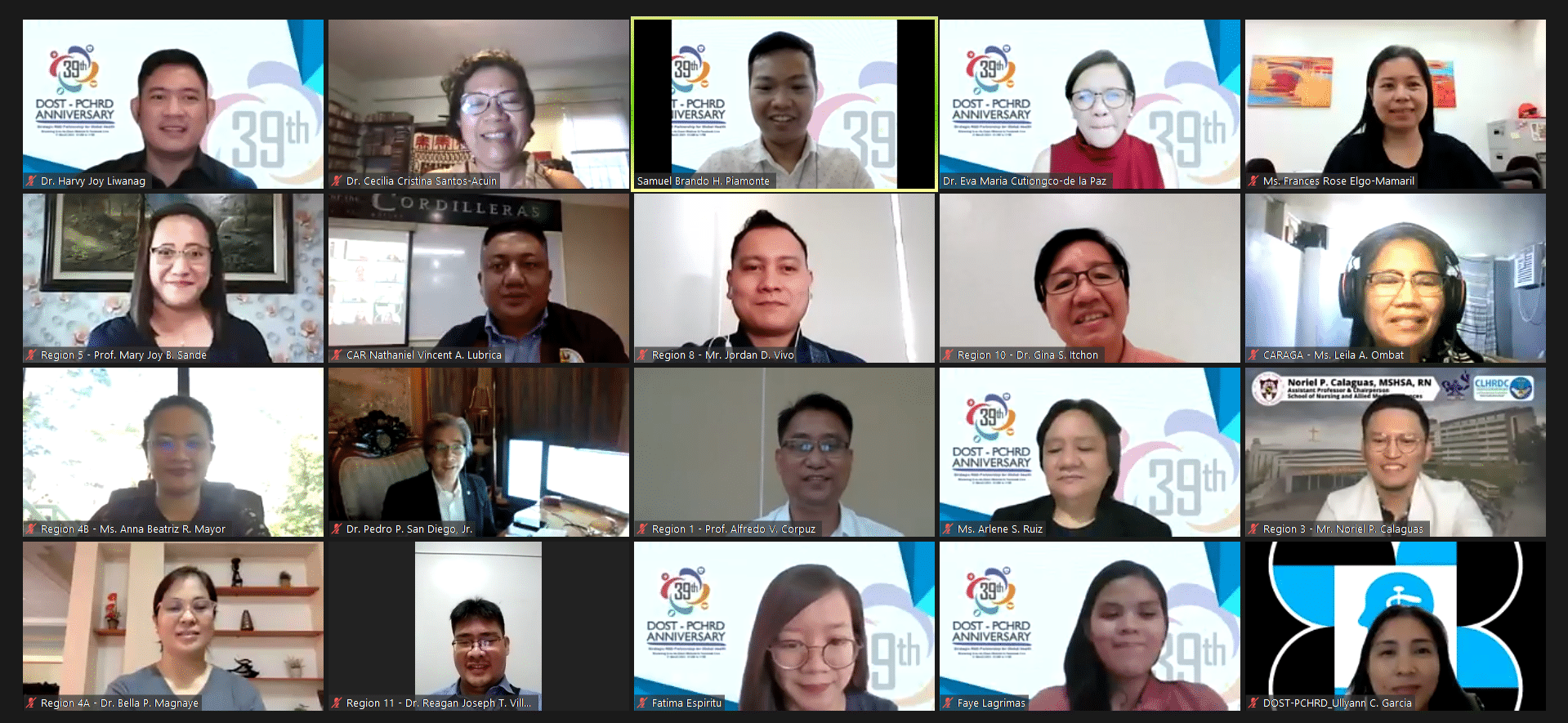 The Northern Mindanao Consortium for Health Research and Development (NorMinCoHRD) wins their third title as champions of the 3-Minute Pitch to Policymakers Competition through their representative, Dr. Gina Itchon from Xavier University with her pitch entitled, "The Web-GRID Project: Helping LGUs Make Better and Faster Decisions during Emergencies."
The study of Dr. Itchon aims to integrate epidemiologic data with GEO spatial mapping for disasters. Driven by the desire to contribute solutions during the onslaught of the pandemic, she wants to develop a decision support tool which considered risk perspective and managed by the local government unit for immediate decision making. Ultimately, the tool will be used by the LGU in making executive decisions that is timely, sensible, scientific, and data-driven.
Coming in second place is Dr. Mary Joy Sande representing the Bicol region with her policy pitch entitled "Antenatal Care: Every Pregnant Mother's Right for Quality Care." Third Place winner is Mr. Noriel P. Calaguas representing Central Luzon for the policy pitch entitled "9 Ways to Improve Gay and Bi-Men's HIV Testing Rates."
Dr. Bella P. Magnaye of the Lyceum University of the Philippines, representing Region 4A, bagged the People's Choice Award for the policy pitch entitled "No Plastic, No risk."
Aligned with the research utilization and capacity building thrusts of the Philippine National Health Research System (PNHRS), all competitors were nominated by their respective health research and development consortia.
The 3-Minute Pitch to Policymakers Competition is an initiative that aims to cultivate researchers' presentation and communication skills to policymakers. This year, the competition was held as part of the Council's 39th Anniversary Celebration last 17 March 201 via Zoom and Facebook Livestreaming.
Stressing the importance of utilization in the health research process, the PNHRS Research Utilization Committee Chair Dr. Cecilia Acuin said, "We really need to work on getting our research used, especially at this time when resources are even more constrained than usual. That is why, one of the motivations of holding this competition is to hone the ability to pitch research not only among research but most especially to policymakers. Presenting your research to policymakers, is one of the most effective and efficient way in having your research utilized." 
Source: https://www.pchrd.dost.gov.ph/news/6656-normincohrd-wins-3rd-title-as-champion-of-dost-pchrd-s-policy-pitch-competition