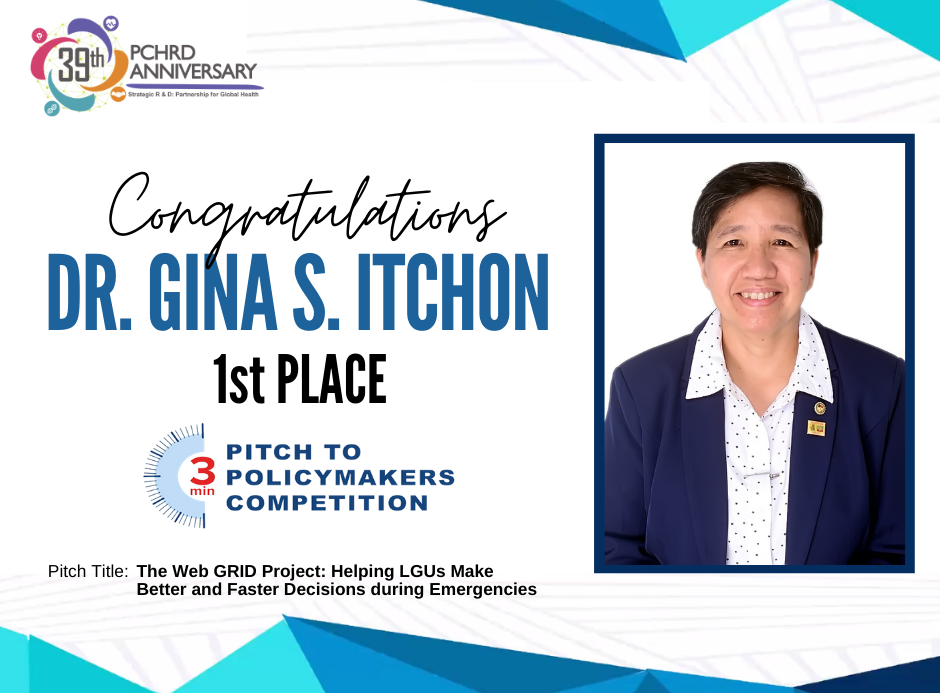 Northern Mindanao's research titled "The Web-GRiD Project: Helping LGUs Make Better and Faster Decisions during Emergencies" bagged the first place in the 3-Minute Pitch (3MP) national competition on March 17, 2021.
The Web-based Geospatial Risk Database (Web-GRiD) Project is a decision support tool that uses geographic-based analysis to capture a particular location's unique characteristics. These captured data will help ensure a more suitable and workable plan of action for risk situations. The research aims to make scientific, timely, and sensible decision-making support to local government executives by integrating epidemiologic data with geospatial mapping.
The team is led by Dr. Gina S. Itchon, Engr. Dex S. Lo, and Engr. Jefferson R Vallente, Jr. from Xavier University – Ateneo de Cagayan (XU). XU also is a member of the Northern Mindanao Consortium for Health Research and Development (NorMinCoHRD), a consortium dedicated to strengthening health research and development within the region.
According to Dr. Itchon, Local Government Units (LGUs) are now using the Web-GRiD as part of the planning phases and emergency responses for COVID-19. The research has proven very useful for LGUs in decision-making, such as conducting granular lockdowns: its boundaries, duration, area of focus, and more.
The 3MP is a competition that focuses on the presentation of completed health research studies, and aims to exercise and cultivate every researcher's presentation and research communication skills to stakeholders and policymakers. It encourages researchers to communicate their work to policymakers in only three minutes.
Dr. Cecilia Cristina Santos-Acuin, Research Utilization Committee Chairperson in the Philippine National Health Research System (PNHRS), cited the importance of the competition as an avenue for national growth. She underscored the significance of knowing the research by heart – to embrace the three-minute time frame as one golden moment to express the benefits of the research to our nation's leaders and policymakers.
"When you're pitching to a policymaker, most of the time you won't have the opportunity to have a script, so you have to know your material by heart and you have to organize your thoughts in your head even without a script," said Dr. Santos-Acuin.
This year's victory makes Region 10 a three-time national pitch winner, after its first triumph in 2019 and another first-place win in 2020.