The ASEAN Dx Initiative is set to launch the first installment of the ASEAN Dx Preparedness Webinar Series discussing "Direct PCR as an Alternative Platform to Conventional PCR" this 28th May 2021, 9AM to 10:20AM.
Endorsed by the ASEAN Committee of Science, Technology and Innovation, the ASEAN Dx Initiative focuses on capacity building amongst member countries; which has become a priority for the region with the ongoing pandemic.
The webinar will discuss the use of direct PCR as an alternative platform for lab-based diagnostics and how it can manage COVID-19 testing demands with the following experts:
1. Dr Kristine Alvarado-Dela Cruz Pediatrics, Infectious Diseases, Head of Microbiology, Research Institute for Tropical Medicine, Philippines
2. Dr Eric Vail – Director, Molecular Pathology, Cedars-Sinai Medical Centre, United States
3. Dr Wong Mun Yew – Chief Executive Officer & Founder, Asia Genomics, Singapore
4. Dr Joseph Yao – Associate Professor, Laboratory Medicine and Pathology, Mayo Clinic, United States
The webinar is CME accredited.
To register, visit: tinyurl.com/aseandxdirectpcr.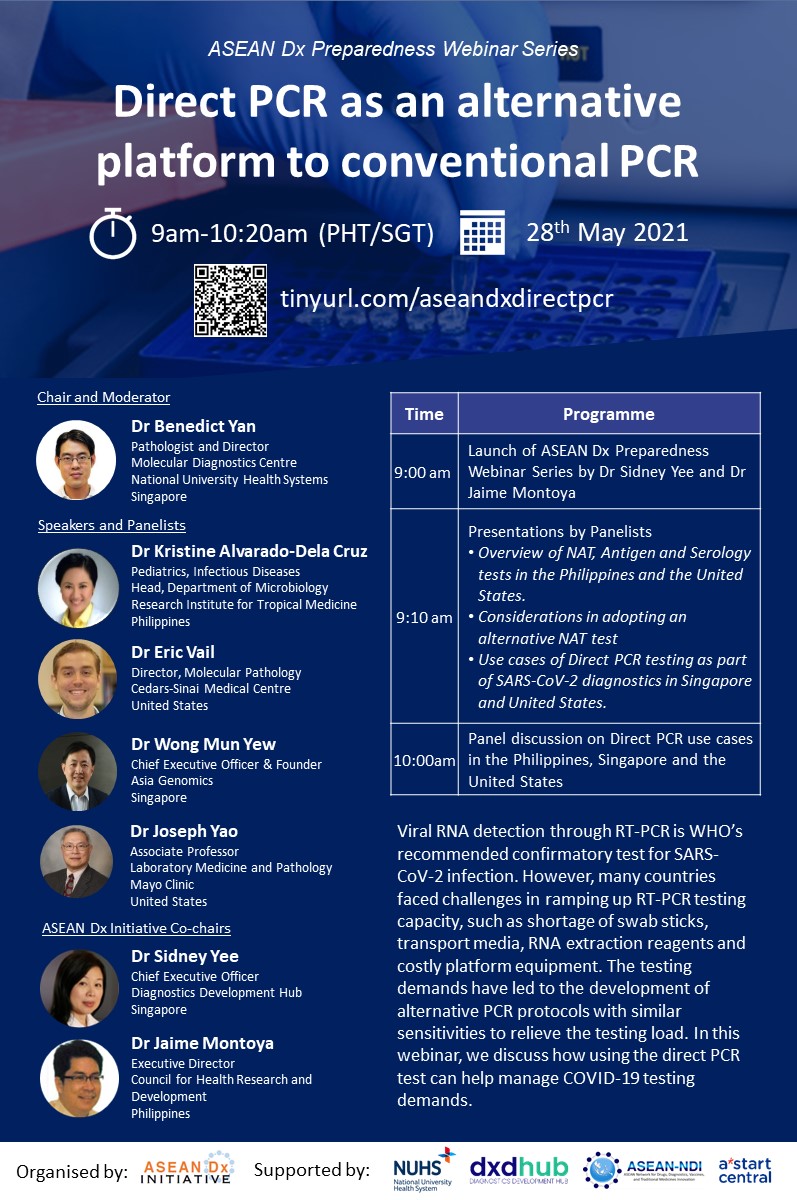 Source: The ASEAN DX Initiative invites you to the ASEAN Dx Preparedness Webinar Series! (dost.gov.ph)