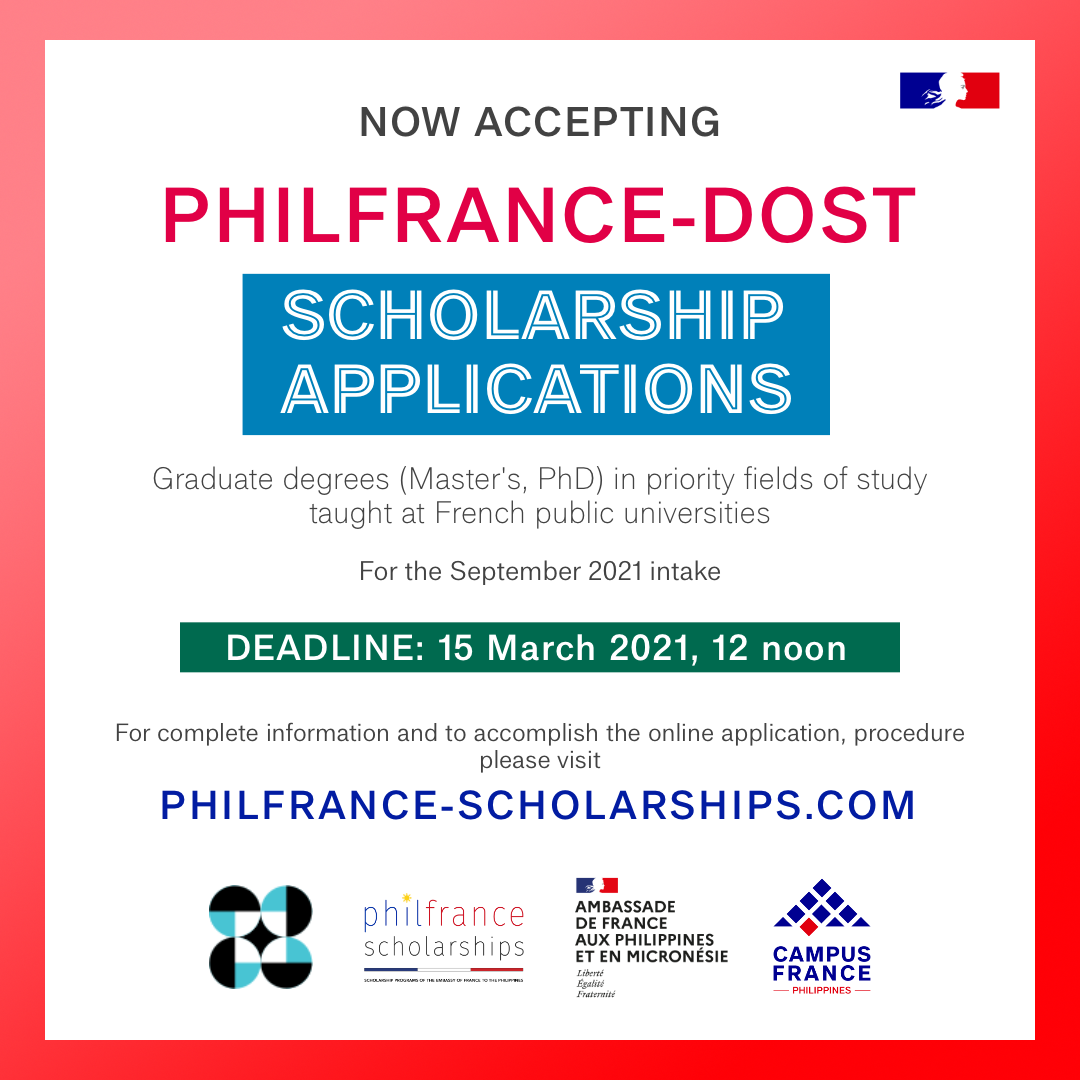 We are pleased to inform you that the call for applications for the PhilFrance DOST Fellowship Programme is now accepting applications from interested individuals. The scholarship program aims to foster the mobility of to the French Republic of Filipino Professionals working in academic, research and government institutions selected jointly on the basis of academic excellence to pursue a Master's or Doctorate Degree in public higher education establishments under the Ministry of National Education, Higher Education and Research of the French republic.
A. Priority Fields of Study
Agriculture

Biological Sciences

Climate Change

Forestry

Health and Medical Research

Material Science

Natural Resources and Environment

Nuclear Application on Health

Veterinary Science

Virology

Nuclear Medicine

Bioinformatics (Medical)

Bioengineering
B. For the eligibility criteria
An applicant must:
be of Philippine nationality;

hold a higher education diploma recognized by the Philippine Government allowing enrolment in the host course in the French Republic;

not be aged, at the date of submission of the application, more than 50 years;

demonstrate an excellent academic level;

demonstrate the knowledge or expertise required to carry out higher studies within the host establishment in the French Republic;

be in good health condition

pass the admission requirements for graduate studies in any of the public universities in France;

pass the interview and other screening procedures;

officially enroll as full-time graduate student;

not avail or enjoy any other scholarships;

be willing to render the required service obligation equivalent to the length of time the scholar enjoyed the scholarship, i.e. two years of service for every year of scholarship or a fraction thereof;

must have full-time commitment to the scholarship and must not engage in any form of employment during the scholarship period; and

fulfill the conditions set down by the parties for the implementation of the PhilFrance DOST Fellowship Programme in accordance with regulations and the existing academic calendar in both countries.
C. For the documentary requirements
Application Form

Birth Certificate

Certified True Copy of the Official Transcript of Record

Endorsement from the two former professors in college (for MS applicant) or two professors in the MS Program for PhD Program applicant

If employed:

recommendation from Head of Agency

permission to take a leave of absence (LOA) while on scholarship

Medical certificate as to health status and fitness study from a licensed physician with his/her PRC license number indicated

Valid NBI clearance

Letter of Admission from public French University

Program of Study

Budgetary requirements

Re-entry plan, narrative
Interested applicants must submit their documentary requirements through the PhilFrance website at https://bit.ly/2021-PFDOST until 15 March 2021. For further inquiries, you may send an email to Mr. Paolo Samoza at samozapaolo@gmail.com and Ms. Charlene Basig at cubasig@dost.gov.ph and copy furnish itcu@capbuilding@dost.gov.ph.