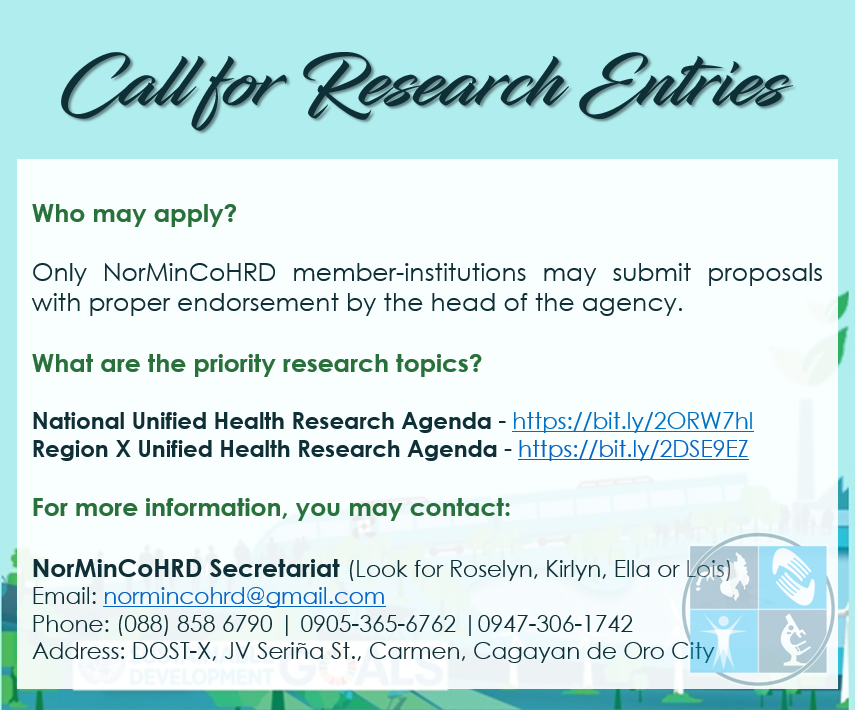 Every 2nd week of August, the health research community celebrates the Philippine National Health Research (PNHRS) Week. Next year's celebration will be hosted by Zamboanga Consortium for Health Research Development (ZCHRD) on August 11-14, 2020 in Zamboanga City.
One of the highlights to this annual celebration is the Inter-Regional Oral Research Paper Presentation and Poster Exhibit Contest for Professional and Student Categories. In preparation for this, our consortium will be holding a Regional Research Contest on November 11-13, 2019 during the Regional Science and Technology Week at Robinsons Mall, Valencia City, Bukidnon. We are calling for health and health-related research entries from consortium-member SUCs/HEIs and training hospitals. Each HEI/training hospital is encouraged to submit at most three (3) research entries both for oral research and poster exhibit contests under the professional and student categories. Please endorse entries to:
ADRIANO P. SUBA-AN
Chair, NorMinCoHRD
c/o NorMinCoHRD Secretariat
Department of Science and Technology
Regional Office No. X
Seriña St., Carmen, Cagayan de Oro City
Email address: normincohrd@gmail.com
Please note that applicable research permits/clearances are required for all endorsed research projects/entries.
The top four (4) regional winners will be endorsed to PCHRD/PNHRS for the qualifying screening at the national level for the 2020 PNHRS Inter-Regional Oral Research Paper Presentation and Poster Exhibit Contests.
Deadline for submission of entries is on or before October 11, 2019.