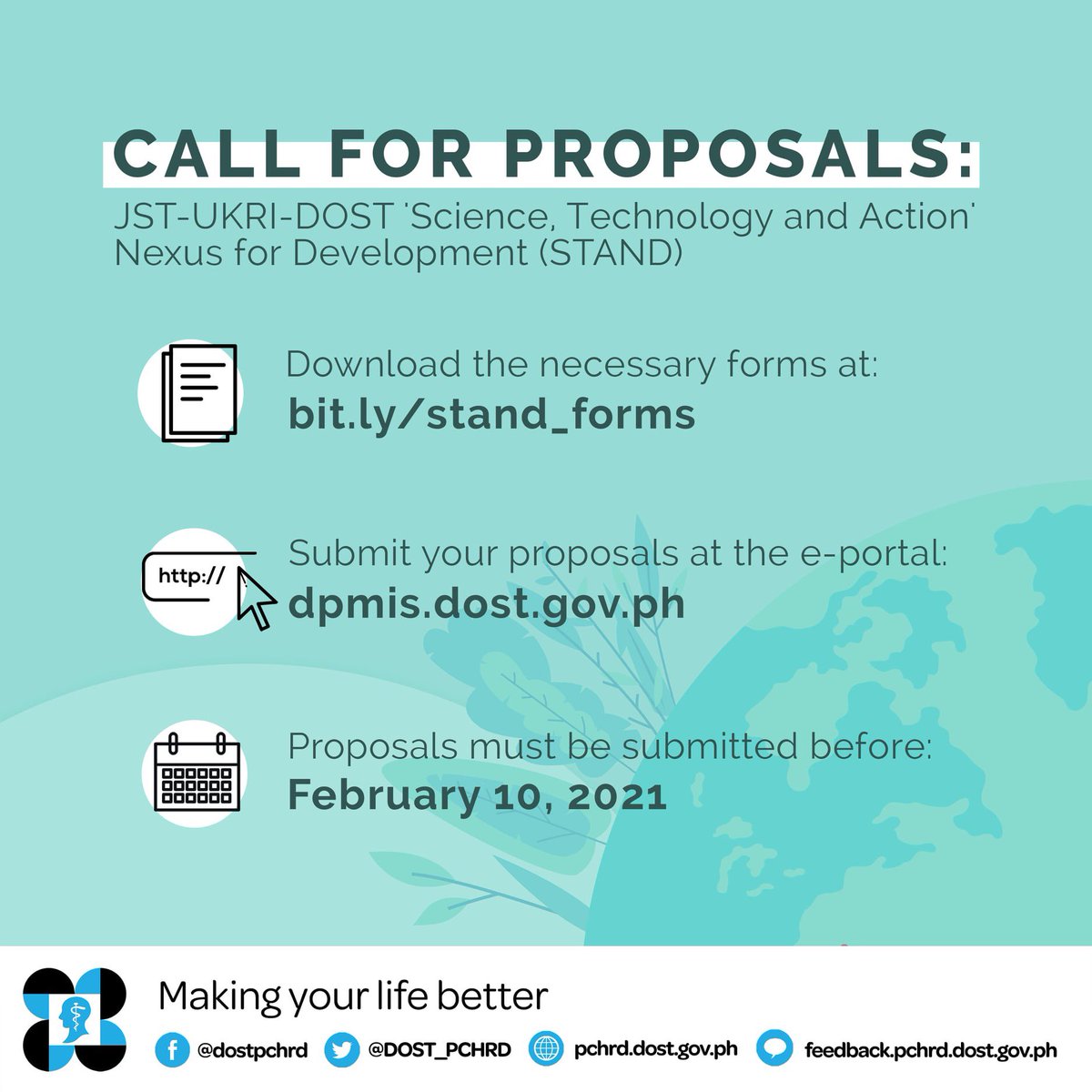 The Department of Science and Technology (DOST) opens the JST-UKRI-DOST 'Science, Technology and Action' Nexus for Development (STAND) Call for Proposals.
The STAND Call for Proposals is a partnership between the UK Research and Innovation (UKRI), the Japan Science and Technology Agency (JST), and the DOST which aims to connect current and recently funded projects focused on sustainable development in South East Asia.
Researchers funded by UKRI, JST, and the DOST with projects focused on sustainable development in South East Asia are invited to apply for funding. Proposals should be led by at least one project leader based in the Philippines eligible to receive funding from DOST, one project leader based in a UK Research Organisation (RO) eligible to receive funding from UKRI, and one project leader based in a Japanese RO eligible to receive funding from JST.
The proposals should enable connections between relevant projects to increase impact and develop new collaborations and synergies towards achievement of the Sustainable Development Goals (SDGs). Proposals should focus on networking and partnership, building outreach and dissemination, and demonstration and pilot activities.
 I. Eligibility Requirements
Any Filipino, public or private entity with proven competence may apply for funding support provided that projects fall under the priorities of the Harmonized National R&D Agenda, and the Sustainable Development Goals (SDGs).
Preference will be given to:
1. Public and private universities and colleges, 
2. Research and Development Institutes (RDIs), 
3. R&D Consortia, 
4. Non-profit laboratories, Other public or private non- profit S&T institutions located in the Philippines. Non-profit S&T organizations are those, which: (1) are operated primarily for scientific, educational, service, or similar purposes in the public interest; (2) are not organized primarily for profit; and (3) use its net proceeds to maintain, improve, and/or expand its operations. Non-profit organizations engaged in lobbying activities are not eligible to apply.
Moreover, preference is of advantage if the proposed Philippine projects/proponents already have a counterpart with JST and UKRI.
1. Each proposal should be jointly submitted by the JST and UK partners.  On each side, a principal investigator "Head of the Project" should be appointed by the team of researchers.
2. A proposal must be submitted in English to the Department of Science and Technology (DOST) by the Philippines principal investigator.
Other requirements :
1. Shall submit documents/proof of the following, which shall include but not limited to : credentials/proof of capability and track record
2. Must not have any existing accountability with DOST and its agencies particularly technical and financial reports
3. Must not have pending administrative or criminal case involving financial transactions
 
II. Support
Maximum of three (3) projects could be supported under this call. Budget range of maximum PhP5M per project for 1 year implementation shall be provided by DOST to support the collaborative projects with JST and UKRI.  The evaluation of proposals as well as reporting and monitoring of all DOST GIA funded projects shall be governed by the  Grants-in-aid Program of the Department of Science and Technology and its Agencies.
 III. Application
Interested parties may download the necessary forms at http :dpmis.dost.gov.ph. Required documents shall be submitted in this e-proposal portal before the Closing Date on 10 February 2021.
Together with the proposal, DOST requires submission of (1) a formal letter of intent from the applicant and (2) an endorsement from the authorized head of organization. The authorized head of the organization will also be the principal signatory of their organization for the research agreement award. 
IV. Evaluation of Project Proposals
Review teams (Project Managers, Technical Experts Team or Technical Panel, and Council Management Teams/Directors' Council) will evaluate each proposal based on the following criteria: 
1. Alignment to the Call/Themes, 
2. no duplication with previous or existing researches,
3. scientific merit, 
4. technical feasibility, 
5. soundness of methodology, 
6. financial viability (commensurate to intended output and potential impact), 
7. potential socio-economic merits, environmental impact (e.g. does not pose significant adverse effect to the environment or will/can improve environmental conditions), and
8. marketability (e.g. potential adoption/use of the industry (manufacturer) and other partners). 
Preliminary funding recommendations by the Council Review Teams shall be forwarded to the Governing Council for further evaluation which in turn shall recommend proposals for deliberation of the DOST Executive Committee (EXECOM).
The DOST EXECOM, based on the rankings and recommendation of the Governing Council, shall make the final selection of proposals to be forwarded to the Joint Panel of the JST-UKRI-DOST for final funding decisions. 
Flow of Proposal Evaluation:
1. Receipt of proposals from DPMIS e-proposal portal                   
2. Forward to Appropriate Council
3. Council Evaluation (Project Managers, Technical Experts Team or Technical Panel, and Council Management Teams/Directors' Council)
4. Governing Council                     
5. DOST EXECOM
6. Joint Panel of JST-UKRI-DOST
 
V. Intellectual Property 
The head of the projects are responsible and must take, by their own, all necessary measures to protect intellectual property.

VI. Reporting
Semi-annual progress reports and a detailed final report will be required. Semi-annual progress reports summarize technical progress, planned activities for next semester and summary of expenditures. The final report shall be completed within 90 calendar days after the completion of the period of performance. Required forms are downloadable from the DOST website and may be provided by the DOST upon the awarding of the agreement to eligible applicants. 
VII. Contact Information
For more info, you may forward your concerns to the following offices/addresses:
Dr. Leah J. Buendia
Assistant Secretary for International Cooperation
Department of Science and Technology (DOST)
ADMATEL Building
Gen. Santos Ave., Bicutan, Taguig City 
DOST Secretariat:
Grace F. Estillore, DOST-PCIEERD, gfestillore@pcieerd.dost.gov.ph;
Charlene U. Basig, DOST-OASECIC, cubasig@dost.gov.ph
Source: http://www.pchrd.dost.gov.ph/index.php/news/6614-call-for-proposals-jst-ukri-dost-science-technology-and-action-nexus-for-development-stand