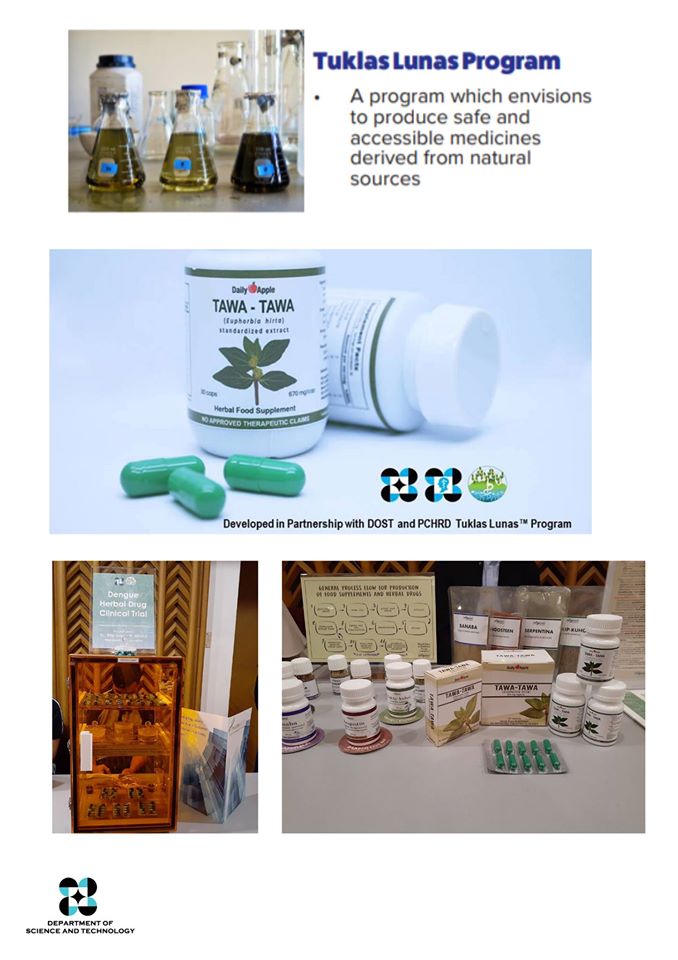 THE Department of Science and Technology (DOST) is expected to intensify the commercialization of different DOST-developed products and technologies for 2020.
DOST Secretary Fortunato de la Peña expressed his goal while enumerating some of the agency's areas of accomplishments which he wants to fully commercialize this year.
The areas of technology of applications range from health and medicine, agriculture, and mass transportation, which he enumerated as:
The 18 active ingredients discovered in local plants for developments as nutraceuticals and drugs through the Philippine Council for Health Research and Development's Tuklas Lunas Program;
Biomedical devices like the AGAPAY and TAYO that assist injured patients, and the local ventilator called Ginhawa, which is cheaper compared to imported ventilators;
Somatic embryogenesis technology for coconut propagation, which he said that there are five institutions currently conducting coconut propagation research, which include UP Los Baños, UP Mindanao, Visayas State University, and Philippine Coconut Authority with its two centers in Zamboanga and Albay;
The technology to improve native livestock through the DOST's Philippine Council for Agriculture, Aquatic and Natural Resources Research and Development (PCAARRD), where the project is led by the Marinduque State College, focusing on the proliferation of native pigs;
Commercialization of mass transportation technology developed by the DOST is also a top priority, which the DOST chief said that the Hybrid Trimaran, being developed in New Washington, Aklan, could be possibly launched on the first semester of 2020. The Hybrid Trimaran is envisioned to carry 150 passengers, four vans, and 15 motorcycles; and,
The 12-horsepower diesel engine developed by the DOST's Metals Industry Research and Development Center which Secretary de la Peña said will have a crucial role on the country's agricultural modernization program.
According to the DOST chief, there are two private companies that are very eager to be licensed to manufacture the "first-ever" Filipino-made engine.
It was learned that a prototype is currently mounted on a unit of RU Shredder, which is manufactured by Bacolod City-based RU Foundry and Machine Shop Corporation, for testing and evaluating the diesel engine's durability and performance.
Meanwhile, the Ministry of Science and Technology (MOST) of Taiwan and the DOST's Science Education Institute, through a joint cooperation, is pleased to announce the Call for Application to the MECO-TECO Sandwich Scholarship Program (SSP) for School Year 2020.
The SSP is open to Master's and doctoral students who would like to conduct their researches in a university or research institution in Taiwan.
The priority research areas include: Natural Sciences; Life Sciences; Engineering; and Chemistry.
An applicant is required to look for a Taiwanese professor who will serve as his/her host/adviser, preferably one with an existing project being funded by the MOST.
This is to facilitate the release of funding and assurance of financial support for the duration of the conduct of the research.
MOST will grant a stipend of NT$20,000 for MS student and NTS30,000 for PhD student per month, while the DOST will grant relocation assistance of P30,000 and a round-trip economy airfare, including travel and accident insurance. (jaypeeyap@ymail.com/PN)
Source: http://www.panaynews.net/commercialization-of-local-technologies/