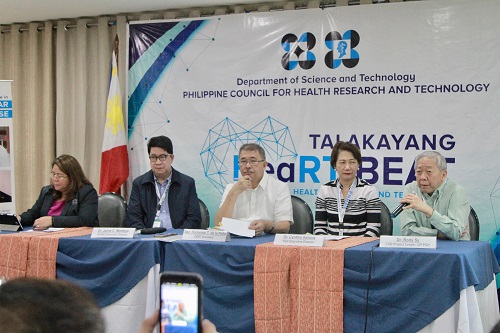 Panelists at the "Talakayang HeaRT BEAT" technology media conference (L-R) Dr. Rowena Cristina L. Guevara, Dr. Jaime C. Montoya, Sec. Fortunato T. de la Peña, Dr. Cynthia P. Saloma, and Dr. Rody G. Sy. (Photo by Henry A. de Leon, DOST-STII)
The right medicine with the right dose to the right Filipino. This, in essence, is how Department of Science and Technology (DOST) Secretary Fortunato T. de la Peña described the ultimate goal of the government's "Omics" program.
DOST presented the "Omics" program dubbed "Omic Technologies for Health: 'Lunas na Sakto sa Pilipino'" during the "Talakayang HeaRT BEAT held on 27 February 2019 at the La Breza Hotel in Quezon City.
"Omics" pertains to disciplines in the field of biology that end in "-omics" such as genomics, proteomics, metabolomics, and the like.  Said disciplines involve studies on different biological molecules, including their roles, relationships, and actions.
The "Omics" program will enable Filipino health professionals to develop new medications, diagnostics, public health surveillance systems, and even population databases for forensic and paternity analyses that are tailor-made for the nation's unique ethnic, dietary, and environmental characteristics.
"Recent studies show that everyone reacts differently to medicines and therapies. Since most medications are formulated abroad, this population is adjusted to meet the needs of the people of its country of origin," Sec. de la Peña explained.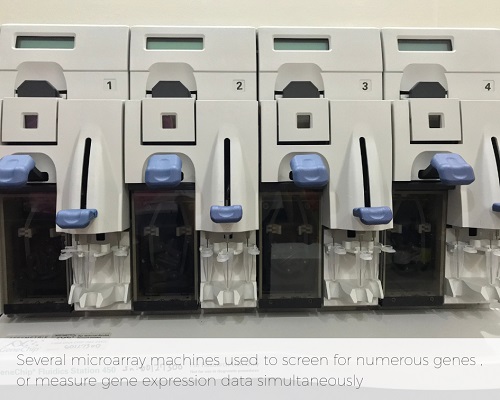 The increase in budget allocation for the country's omics R&D—from PhP31 M in 2014 to PhP312M in 2018—resulted in DOST's major achievements in recent years.
These include successful genetic studies among different Negrito groups, leptospirosis patients (the largest of its kind in an Asian population), and type 2 diabetics (involving 59,425 participants since 2014).
Another milestone is the establishment of the PhP456M UP-Philippine Genomics Center in Diliman, Quezon City that provides next-generation sequencing services for sectors like agriculture, industry, and the environment.  Similar units will be likewise launched in Miagao, Iloilo and Davao City.
Moreover, the "Omics" program will also enhance clinical practice guidelines and policies, particularly to address the country's leading causes of mortality—cardiovascular diseases, cancer, pneumonia, and HIV/AIDS.
"As our economy becomes more robust, the nature of our workforce continues to evolve [across] different age groups, social status, gender, ethnicity, social values, and lifestyle choices. Now, the people in the [middle-income] group are becoming more at risk to [these] lifestyle diseases," Sec. de la Peña elaborated.
DOST officials are banking on greater investment towards personalized, omics-oriented therapies, equipment, and infrastructure. More investments in this area will help raise the nation's universal healthcare system and be at par with those in developed countries.
The "Talakayang HeaRT BEAT" is the second in a series of DOST's technology media conferences promoting  local science and technology projects and other endeavors.
Joining Sec. de la Peña were DOST Undersecretary for Research and Development Dr. Rowena Cristina L. Guevara, Executive Director of the DOST-Philippine Council for Health Research and Development Dr. Jaime C. Montoya, Executive Director of the University of the Philippines – Philippine Genome Center (UP-PGC) Dr. Cynthia P. Saloma, and Dr. Rody G. Sy, project leader on cardiovascular diseases at the Philippine General Hospital. Dr. Eva Maria Cutiongco-de la Paz, executive director of the National Institutes of Health, served as the event moderator.
Source: https://lifestyle.mb.com.ph/2019/03/02/dosts-omics-program-ushers-personalized-medicine-for-filipinos