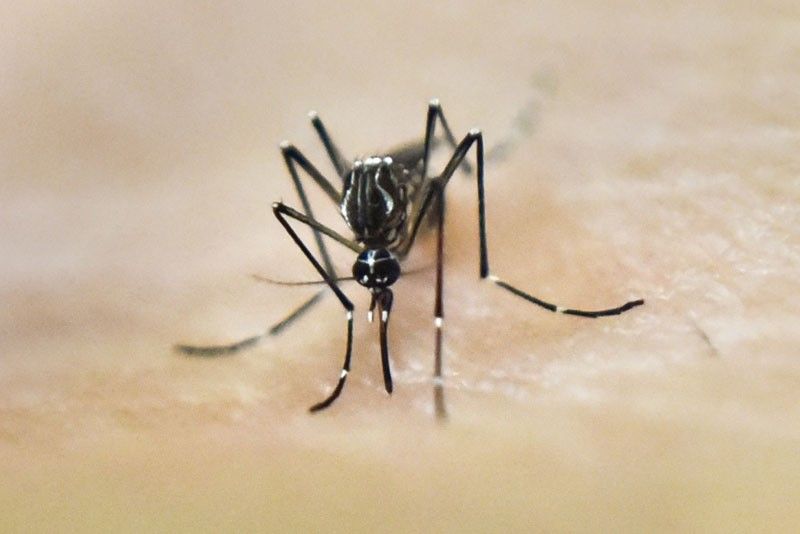 The medicine they formulated from a cocktail of three endemic plants proved to be effective in curing dengue. AFP/Luis Robayo
A team of researchers from De La Salle University-Dasmariñas' Medical and Health Sciences Institute led by pharmacologist-epidemiologist Dr. Rita Grace Alvero has started Phase 1 of clinical trials on a herbal medicine that can cure dengue.
The medicine they formulated from a cocktail of three endemic plants proved to be effective in curing dengue.
Alvero, one of the presenters at the National Research and Development Conference 2019 held by the Department of Science and Technology last Wednesday at the Philippine International Convention Center (PICC) in Pasay City, said that they were determined to pursue the full drug development process to make the breakthrough drug to help cure and stop deaths from dengue.
"It will be ready by end of 2020. That's next year," Alvero said.
Alvero said the secret ingredient of the potential dengue drug was culled from three herbal plants found in the country.
"They are endemic in the Philippines, not at all endangered," Alvero told The STAR. "It's an anti-viral."
The research and development on the potential breakthrough dengue cure was a project of the Alvero-led team of researchers who are teachers at DLSU-Dasmariñas and have formed a health startup-spinoff firm Pharmalytics Corp.
Alvero said that animal studies and initial efficacy tests have shown "dramatic" recovery of dengue patients, even those with worse cases with very low platelet count.
"We've done the pre-formulation tests, we've done animal studies, we've tested for efficacy. We've done the capsule, we've documented the efficacy results," Alvero said.
"We've demonstrated in humans already, in pilot cases, that it attenuates the clinical signs of the disease," Alvero said.
"There was dramatic recovery. It was given to patients with very, very low platelet counts who are bleeding already. It reversed (the progression of the disease), and improved the well-being (of the patient)," Alvero said.
Jaime Montoya, executive director of the DOST-Philippine Council for Health Research and Development, said the agency supports the drug development efforts of Alvero.
DOST-PCHRD had provided initial financial grant to the DLSU-Pharmalytics program to develop the potential dengue cure.
Dengue has proven to be a persistent killer disease in the country, with thousands hospitalized yearly.
Source:  https://www.philstar.com/headlines/2019/04/06/1907694/drug-philippine-plants-seen-cure-dengue