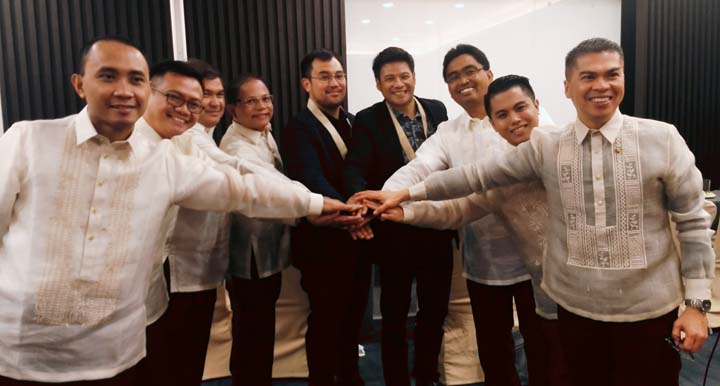 Photo: Edd K. Usman
Love of country" motivates Filipino scientists who are already living abroad to apply for the "Balik Scientist" program (BSP) of the Department of Science and Technology (DOST).
Take the case of Dr. Rodrigo Jamisola Jr., who is currently working on the second phase of his short-term visit for his BSP project and is staying in the country for another six days until March 30.
Speaking to the BusinessMirror, Jamisola said he aimed to provide technical expertise on robotics in three universities, namely, Batangas State University (BSU), Rizal Technological University and Bulacan State University in the first phase of his BSP program last year from October 9 to November 2, or for 25 days.
At the DOSTkusyon Balik Scientist Forum at the Sulo Hotel on March 20, Jamisola explained that the three universities accomplished proposals for projects that address certain issues, such as developing four autonomous underwater vehicles to monitor Isla Verde passage for BSU, developing another four autonomous underwater vehicles to explore the Philippine Benham Rise and building a touch kiosk, hologram, virtual reality and 4D for immersive interaction and historical preservation of Barasoain Museum.
"I have identified these projects and I'm glad the institutions have already made proposals that would cost about P12 million each, and hopefully be approved for funding to create a laboratory for each university and make these proposals into reality," Jamisola said.
As a current senior lecturer of the Botswana International University of Science and Technology in Botswana, Southern Africa, he hopes that the Philippines pushes through to a higher level of scientific and technological advancement.
"I want Filipino universities to advance. I want to see these projects used not only for a particular area, such as the Benham Rise, but throughout the Philippine waters," Jamisola said.
Jamisola is encouraging Filipinos to also take part in improving the S&T situation in the country by taking further studies and serve the nation.
According to him, the BSP of the DOST is helping him give back to the country and share his learnings.
Challenge: To have 300 S&T staff per million population
Science Undersecretary Dr. Carol M. Yorobe for S&T Services told the BusinessMirror in an interview that for this year "a total of 67 Balik Scientists will share their expertise to Filipinos."
With a budget of P400 million for research in different disciplines like agriculture, industry and health, the 67 Balik Scientists can have a huge advantage of good funding for their proposals this year alone.
Yorobe also said that the science department aims to accomplish the 300 S&T staff per million population for 2022.
"We already have around 270 [S&T personnel] per million [of the Filipino population] out of the 380 required by the United Nations," Yorobe told the BusinessMirror. "We are aiming at 300 S&T personnel mark for the Philippine Development Plan period of 2022."
She cited that it is quite a challenge, but nonetheless, the BSP is a huge contributor in achieving that goal.
"The BSP is involved in research. If the scientists can upgrade the country's S&T capability either in the academe or industry, the younger generations will be encouraged to go into more research and, therefore, help in adding up the numbers," Yorobe said.
She explained that every year, the BSP will increase the number by adding 50 percent of the current number for the following year.
With the Balik Scientist Act signed by President Duterte last year, the entire process of selecting qualified scientists has been simplified and more incentives are in store for them.
The incentives include additional insurance, especially on health, endorsement of membership at the National Research Council of the Philippines and a one-time P500,000 incentive if the proposed program they generated has outstanding results after an evaluation by the National Academy of Science and Technology.
Also, the process of approving Balik Scientists' proposals has been simplified, giving Filipino scientists abroad easier procedures for application to the program.
Balik Scientists return for good
"Some Balik Scientists have already repatriated and are now absorbed by their host institution," Yorobe noted. One scientist shared his experience with the DOST's BSP DOSTKusyon forum.
Dr. Emmanuel S. Baja, an expert in environmental epidemiology, which determines how environmental factors and exposures affect human health, returned to the country and stayed at the University of the Philippines Manila for good after his Balik Scientist experience in 2012.
"I have always wanted to come back home," Baja said.
He insisted that the Philippines has a lot more exciting research in his field rather than in any country. A former postdoctoral researcher at the Harvard School of Public Health, he had to focus on one kind of research.
In the country, Baja has done and is currently doing researches on the use of medical marijuana in the Philippines, determining social and economic cost of medical cannabis to Filipinos, exposure assessment of the health of Metro Manila Development Authority traffic enforcers, developing an online mobile application game for HIV engagement and testing and a lot more.
'Joining BSP again and again'
Besides repatriation, a Filipino scientist, who is currently at the United States's, National Aeronautics and Space Administration Goddard Space Flight Center, has repeatedly returned to the country through the Balik Scientist Program.
A four-time Balik Scientist, Dr. Josefino Comiso, an expert in remote sensing and climate change, is currently on a short-term engagement with the Institute of Environmental Science and Meteorology of the University of the Philippines Diliman.
"I share my knowledge and techniques for assessing the occurrence and modelling of drought from satellite data," Comiso told the BusinessMirror.
Although he is getting older, he said he still would like to serve the country through the BSP.
Comiso added: "As long as my health is good and I am able, I am willing to render my service to the country by applying to the Balik Scientist Program again and again."
The Balik Scientist Program is an open-ended platform for scientists.
Yorobe told the BusinessMirror that, "There is an unlimited opportunity for each Balik Scientist to reapply for the program because it only answers if there is still a need for the field, and if they [the scientists] are the only experts on the field."
Source: https://businessmirror.com.ph/2019/03/24/love-of-country-prompts-filipino-scientists-abroad-to-serve-phl/