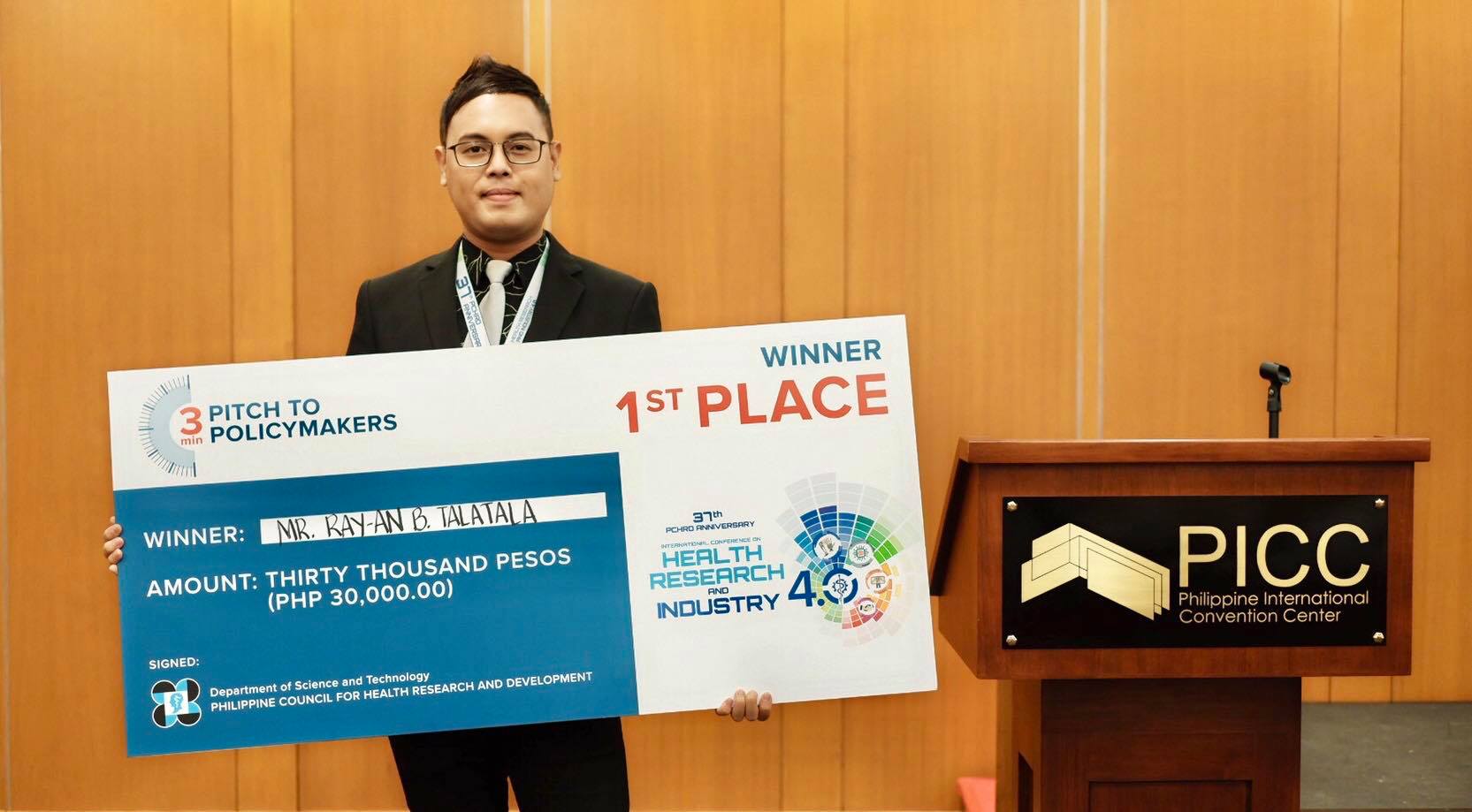 Mr. Talatala receiving his award as 1st placer of the 3-Minute Pitch to Policymakers Competition 
"Nurses, being the heart and forefront of patient safety, have a proactive role in ensuring safe and quality patient care. Join me in my crusade in promoting burn awareness and raising the flag of patient safety. Say No to Burns. Be Burn Aware," is the element of Mr. Talatala's speech that caught the interest of the judges. His research entitled, "C.H.E.C.K. Before You Burn: A Continuing Quality Improvement (CQI) Study on the Prevention of Electrosurgical Unit (ESU) Burns in the Operating Room (OR)," is about the importance of the safe use of electrosurgical units to prevent unintentional burns in the OR using CHECK, the protocol he developed in the study.
Mr. Ray-an B. Talatala RN, MN, MAN, representative of the Northern Mindanao Consortium for Health Research and Development (NorMinCoHRD), is the pioneering champion of the 3-Minute Pitch to Policymakers Competition of the Department of Science and Technology – Philippine Council for Health Research and Development (DOST-PCHRD). This was held during the 37th PCHRD Anniversary at the Philippine International Convention Center, Pasay City, Manila on March 15, 2019.
The competition focused on the presentation of successfully completed health research studies to exercise and cultivate researchers' presentation and communication skills as a way of sharing evidence-based results to stakeholders and policymakers. The participants reported their completed research in a three-minute, one-slide presentation to a non-specialist audience based on the criteria of Comprehension, Engagement, and Communication Style.
Twelve (12) contestants from different regional health research consortia joined the competition. The distinguished panel of judges were Dr. Cecilia Cristina Santos-Acuin of the International Rice Research Institute (IRRI), Dr. Eva Maria C. Cutiongco-Dela Paz of the University of the Philippines-Manila, National Institutes of Health (UPM-NIH), Ms. Arlene S. Ruiz of the National Economic and Development Authority (NEDA), Dr. Peter P. San Diego, Jr. of Philippine Heart Center and Dr. Gloria Nenita V. Velasco of the Department of Health (DOH).
Mr. Talatala is a member of the Capacity Building Committee of NorMinCoHRD. He is also the youngest OR nurse supervisor and a member of the Research Ethics Board of the Northern Mindanao Medical Center. He has been active in doing research and has received local and international citations as a nurse researcher and leader. Studies on patient safety are one of his priorities as a researcher.