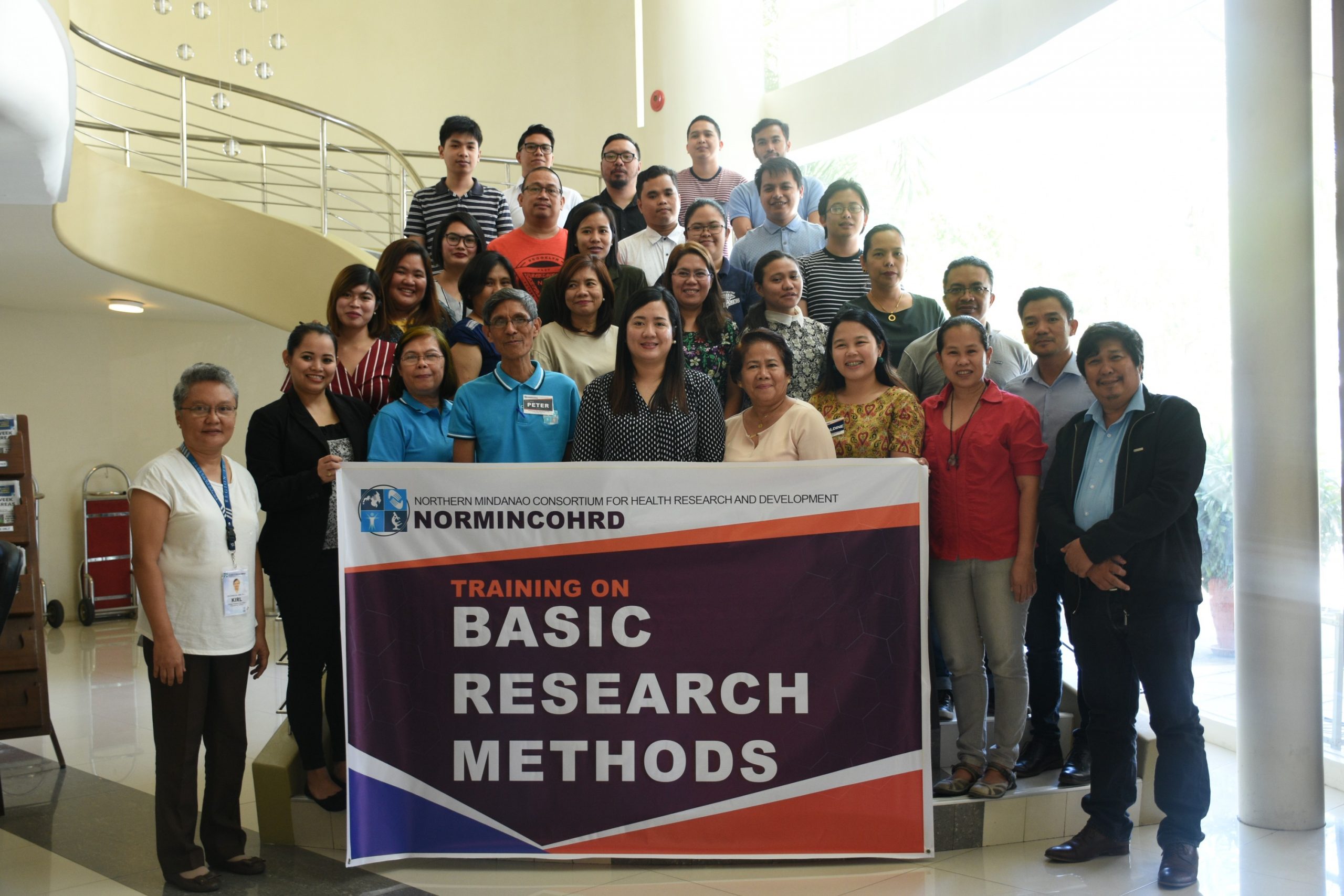 The participants together with the resource speakers, Dr. Raagas, Dr. Orbase, Ms. De Leon and Dr. Ansale (front row, 3rd, 4th, 5th and 6th, respectively)
Twenty-five (25) junior researchers from different member-institutions of the Northern Mindanao Consortium for Health Research and Development (NorMinCoHRD) attended the Training on Basic Research Methods on April 10-12, 2019 at N Hotel, Cagayan de Oro City.
The training focused on enhancing the capacities of the young researchers in health research proposal preparation. A total of eleven (11) health research problems were identified and presented before the plenary and critiqued by the trainers during the three-day workshop. Among the research problems identified were prevalence of heterophyiasis, resilience in post-war, relapse after rehabilitation, breastfeeding practices, care of dementia patients, suicidal ideation, portable database for health information collection, mobile application for diabetic individuals' data and information technology (IT) wearables.
Participants of the training were from Bukidnon State University (BukSU), Cagayan de Oro College – PHINMA (COC-PHINMA), Capitol University (CU), Central Mindanao University (CMU), Iligan Medical Center College (IMCC), Liceo de Cagayan University (LDCU), Mindanao State University – Iligan Institute of Technology (MSU-IIT), Xavier University (XU) and Northern Mindanao Medical Center (NMMC).
The trainers were the consortium's very own officers/members, Dr. Peter R. Orbase of CMU, Dr. Ester L. Raagas of XU and Dr. Fidela B. Ansale of CU. They have been trained and completed the PCHRD-initiated Basic Research Methods Training of Trainers on December 11-13, 2018 at Davao City and the Research Proposal Critiquing Workshop on March 14, 2019 at Manila Manor Hotel, Manila.
More trainings related to producing quality health researches will be conducted to enhance the capacities of the young researchers.