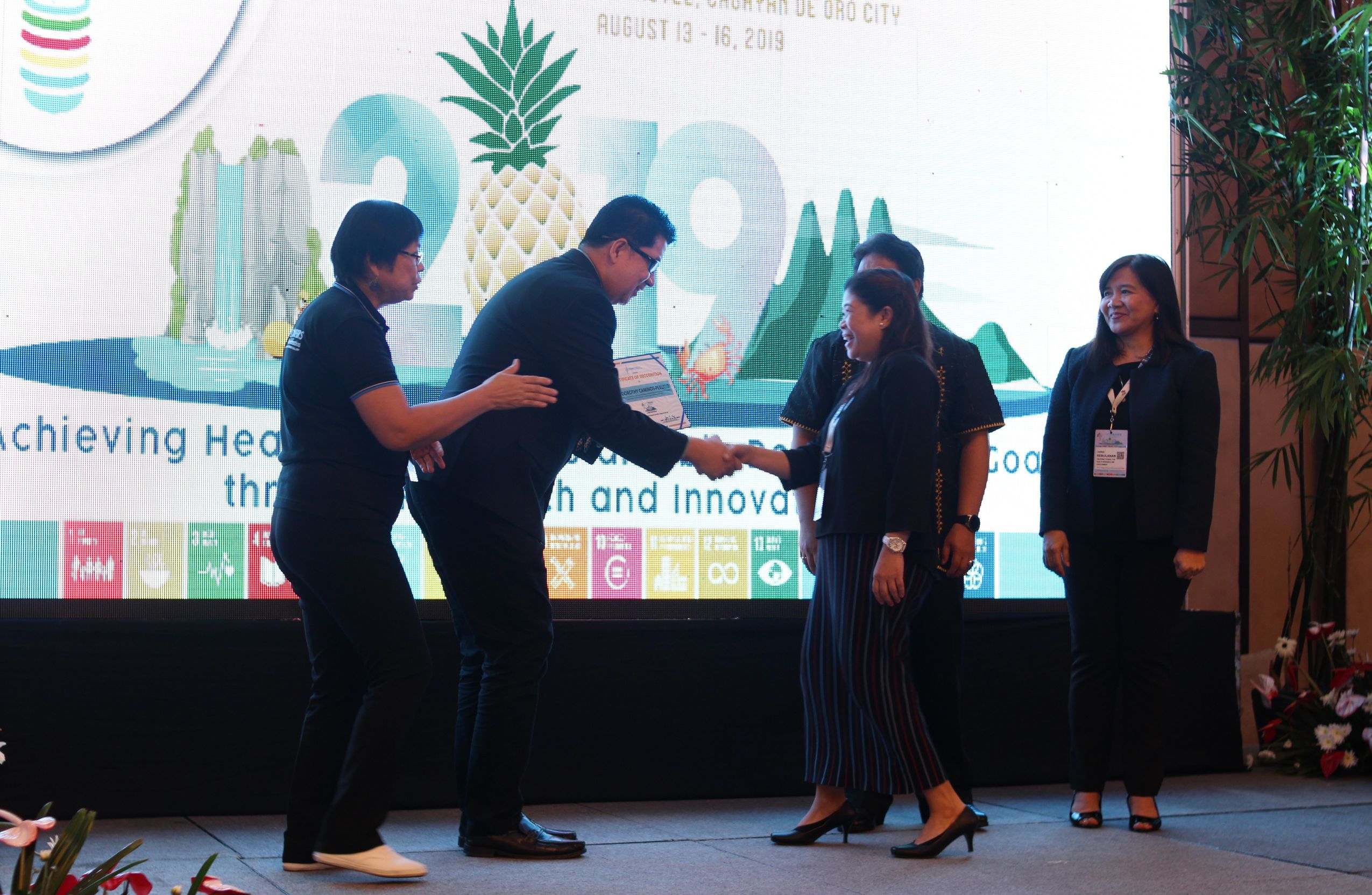 Dr. Peruelo receives her award  as 2nd Placer of the Oral Research Paper Presentation – Professional Category during the 13th PNHRS Week Celebration at Luxe Hotel, Cagayan de Oro City on August 16, 2019
Chemistry professor of Xavier University – Ateneo de Cagayan, Dr Dorothy Caminos-Peruelo, won second place in the inter-regional competition for oral research paper presentation (professional category) during the 13th Philippine National Health-Related Research System's (PNHRS) Week celebration held in August in Cagayan de Oro City.
Her winning paper was titled "Preparation, Characterization of Chitosan bamboo charcoal/poly(methacrylate) composite beads for the capture of Creatinine."
This research involves the preparation and elucidation of the chemical properties of composite beads for future biomedical applications. The beads can be used as a column adsorbent in a kidney-assist device like in blood dialysis to remove blood toxins.
Caminos-Peruelo represented not just Xavier Ateneo's Department of Chemistry, but also the Northern Mindanao Consortium for Health Research and Development in the said tilt.
Other presenters were from the University of the Philippines – Manila (NCR), Western University Philippines (Region 4B), Baguio General Hospital and Medical Center (CAR), Bicol University (Region V), and University of the Immaculate Conception (Region XI).
The Department of Science and Technology Region 10 has invited Caminos-Peruelo to attend the closing and awarding ceremonies of the 2019 Regional Science and Technology Week (RSTW) on November 13 in Valencia City, Bukidnon. 
The RSTW bears the theme "Science for the People: Enabling Technologies for Sustainable Development" and will dedicate the celebration for the recognition of exemplary contributors to the advancement of science, technology, and innovation in the region
Source: https://www.xu.edu.ph/xavier-news/158-xu-ateneo-news-sy-2019-2020/4262-2nd-place-in-the-inter-regional-competition-for-oral-research-paper-presentation